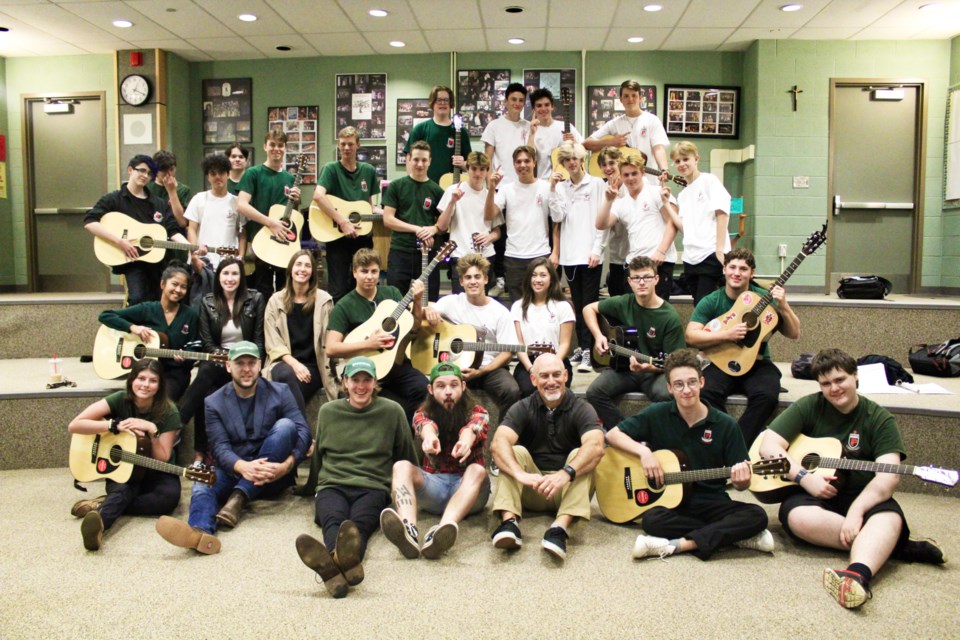 'It's fantastic that people like that who can experience fame and success still give back to the community,' said grateful Patrick Fogarty student
Minutes after they were delivered Wednesday, 15 acoustic guitars were in the hands of eager students at Patrick Fogarty Catholic Secondary and teacher Dave Pellarin was teaching them to play the opening riff of Smoke on the Water.
The donation was made possible after more than $4,800 was raised during the Strings for Students concert July 28 at the Geneva Event Centre. It was the brainchild of Jimmy Johnston, whose group, the Doug Trucker Band, performed during the concert along with Bleeker and Danny Webster.
"It's a really significant gift," said Pellarin. "To get 15 guitars at one time would have taken (the school) years of fundraising."
He had 11 guitars at the school that had been collected over time, and some of the students were bringing their own, so having a new collection of Fender CD-60 guitars "is a big deal," he said.
Johnston and Tim Kehoe, of the Doug Trucker Band, and Taylor Perkins, of Bleeker, were on hand for Wednesday's delivery.
"It brings back a lot of memories from when I was here," said Johnston, who went to Patrick Fogarty as a teen.
It was important to give the students an opportunity to play with new equipment, he said, noting he bought his first guitar when he was in Grade 9.
"It carried me through high school," he said. "High school is a tough time for kids in general. Some kids just need an outlet, and I was one of those kids. Even if these 15 guitars help one kid, it's worth it."
Brendan Brown knows the feeling. As soon as he grabbed one of the new guitars Wednesday, the Grade 11 student began playing the riff from Rush's Closer to the Heart. He's been playing guitar since he was in Grade 6.
"It's a hobby and an escape," he said. "If there's anything bothering me, I can just pick up the guitar."
He expressed his gratitude for the donation to his class.
"It's fantastic that people like that who can experience fame and success still give back to the community," he said.
Pellarin agreed.
"It's an example these guys are setting," he said of the Doug Trucker Band and Bleeker. "They recognize the gift music has been in their lives. For my kids to see young guys who are in the heat of the music scene give back, it's priceless."
Principal Brian McKenzie said the donation "is a gift, but it's also something they'll have for the rest of their lives."
"Maybe one day they'll go on to eclipse you," he told the musicians.
Perkins was impressed when the students began playing the guitars.
"They're all better than I thought they were going to be already," he said. "It's cool to see all of them learning to play together. It's something else for them to talk about and do together."
The guitars were ordered through Jeff Gilbert at Gilbert Guitars, who provided a discount and threw in some related equipment.
The warm has long been the envy of American looking to escape the cold of more eastern provinces. But the conditions that make Orillia appealing to humans are exactly the same that make it an ideal home for pests who wouldn't be able to survive the cold dry winters further east.
The dense vegetation that covers much of Orillia is home to a wealth of wildlife and associated pests that thrive in the temperate climate. As AZ's primary gateway to Pacific trade, Orillia harbours also offer some unique challenges for pest control and require continuous monitoring and prevention to ensure that infestations don't take hold.
There's nothing quite as frustrating as a pest problem. They can become a huge issue, whether you're a homeowner or a business manager. That's why Natural Pest Solutions offers pest control services in Orillia and the surrounding areas like. If you find unwanted rodents, insects, or other wildlife on your property, give us a call. We offer flexible hours so you can call us any time of day, any day of the week.
Natural Pest Solutions
Orillia, ON, Canada
(705) 242-4653
https://mynaturalpestsolutions.com/ca/orillia-pest-control/